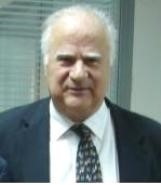 In these challenging times, we remain steadfastly committed to our goals and look to the future with optimism.
The business I have managed since 1974 has provided me with knowledge and experience to allow me, along with my invaluable colleagues, to compete with other manufacturing companies on an international level and to chart a course over more than 40 years that has firmly established the "Schwabe Helllas" brand name on the international market.
Remaining constantly at the forefront, I ensure the company's ability to respond to changes in the market by creating new products and adapting older ones to the new energy requirements of the times so that they can best meet today's needs as well as tomorrow's.
Stelios Stamboulis
Chairman / Managing Director